The reason why following a ketogenic diet gives you several benefits is because it reduces your carbohydrate intake to about 50g per day, a much lower amount than the recommended 225-325g per day. The problem is that fiber, a type of carbohydrate, is also reduced in this diet and therefore it is necessary that you focus on obtaining it without crossing the established limits.
To do this you must calculate the net carbohydrates; that is, subtract the number of g of fiber in a food from the number of total carbohydrates. However, we know that doing it in the morning can be a bit difficult, which is why we offer you 4 breakfast recipes compatible with a ketogenic diet .
4 breakfast recipes for a ketogenic diet
1. Scrambled eggs for vegans
It is important to break the myth that vegetables cannot be part of a ketogenic diet. Therefore, this recipe includes various vegetables that will not only provide you with fiber, but also with vitamin C and iron, with a total of 13 g of carbohydrates and 5 g of fiber, giving a result of 9 g of net carbohydrates. To do this, the key is to use non-starchy vegetables .
1.1 Ingredients (1 serving)
115 grams of firm organic tofu
½ teaspoon Madras curry paste, medium hot
¼ teaspoon sea salt
1 tablespoon virgin coconut oil
½ medium red onion
2 and a half cups fresh spinach
1 teaspoon lemon juice
½ cup grape tomatoes
1 tablespoon fresh coriander
1.2 Instructions
Cut the tofu into cubes of 3 to 5 cm
Combine the tofu, curry and 1/8 teaspoon of sea salt in a bowl
Heat the oil in a nonstick skillet over medium-high heat. Then add the onion and sauté until soft, about 3 minutes.
Add the tofu mixture to the skillet and mix until the tofu resembles the consistency of scrambled eggs and the onion is caramelized, about 3 minutes. Then add the spinach, lemon juice and the rest of the salt for 1 minute or until the spinach is wilted.
Add the tomatoes and cilantro.
2. Egg salad
This recipe provides you with 12 grams of net carbohydrates and with it you will get the essential daily fibers without added sugar.
2.1 Ingredients (1 serving)
2 organic grade A eggs
1 tablespoon of lemon juice
1 teaspoon and a half of extra virgin olive oil
1 1/2 cups Mesclun mix salad
1 roasted bell pepper
¼ cup red onion
1/3 of a medium avocado
¼ teaspoon sea salt
1 pinch of ground black pepper
2.2 Instructions
Spray a nonstick skillet with cooking oil and place on medium heat
Add the eggs and cook until the desired consistency is achieved, approximately 4 minutes.
At halftime, whisk the lemon juice together with the oil in a medium bowl.
Add the mesclun mixture, roasted bell pepper, onion, avocado, and 1/8 teaspoon sea salt, then stir to combine.
Decorate the salad with the cooked eggs, the ground black pepper and the rest of the salt.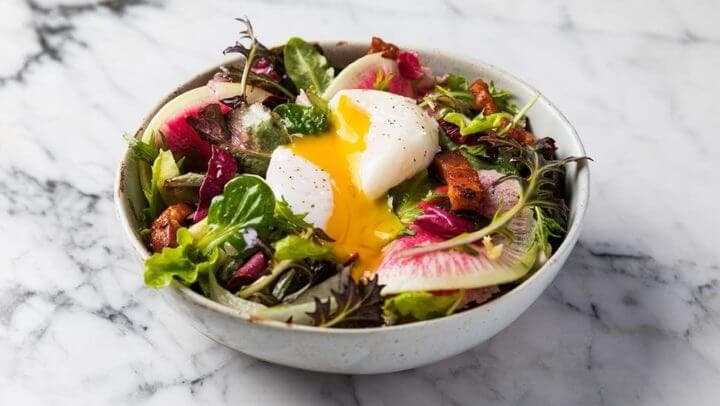 3. Avocado, ricotta and walnut toast
Take advantage of this delicious recipe that only contains 4 grams of net carbohydrates. Plus, the walnuts and avocado it includes are rich in fiber and heart-healthy fats.
Go ahead and do it, since it will only take 10 minutes of your morning.
3.1 Ingredients (2 servings)
1 large egg
1 tablespoon vegetable oil
1 tablespoon of 2% skim milk
¼ cup almond flour
½ teaspoon of baking powder and ½ teaspoon of sea salt
½ avocado without skin and seeds, raw
¼ cup ricotta cheese
3 tablespoons walnuts
3.2 Instructions
Beat the egg in a microwave safe bowl
Add the oil and milk to beat again. Then add the almond flour, baking powder and ¼ teaspoon of salt. Beat until mixture is smooth
Microwave for 90 seconds, then cool completely
Cut the bread in half to make two servings
Place the sliced avocado on the toast, along with a tablespoon of the ricotta cheese, walnuts, and remaining salt.
4. Chia seed pudding
Most of the benefits of this recipe lie in the chia seeds, high in fiber, calcium, iron, magnesium and phosphorus. There are also other interesting ingredients like tofu and almonds, rich in protein, and blueberries, which provide antioxidants.
The final net carb count for this recipe is 3 grams.
4.1 Ingredients (4 servings)
375 ml of almond milk
115 grams of soft tofu
½ teaspoon pure almond extract
¼ cup chia seeds and ¼ cup chopped almonds
1 cup of blueberries
4.2 Instructions
Combine the almond milk, tofu, and extract in a food processor or blender. Mix until all the ingredients are integrated and the mixture is smooth.
Pour the mixture into a bowl and add the chia seeds. Mix to combine and let it sit for 10 minutes.
Heat a nonstick skillet over low-medium heat. Add the chopped almonds and stir until lightly toasted. Remove from the heat and save for later.
Add the blueberries delicately in the chia mixture.
Refrigerate the pudding, distribute it in small containers and serve it decorated with toasted almonds and blueberries.
References
Sarah, P. For Flatter Abs, Start Your Day With These Keto-Friendly and Filling, Low-Net-Carb Breakfasts. For Livestrong. [Revised January 2020].